Back in the day, it was the living room that was the focal point of a home. Nowadays, it's the kitchen that's getting everyone together, so it's only natural that you style yours right.
The main element we want to look at today is the buffet. We don't know about you, but we think there is so much you can do with a buffet to make your kitchen look both lovely and functional.
On that note, let's take a look at some styling tips for your kitchen with a buffet.
1. Organize The Space Correctly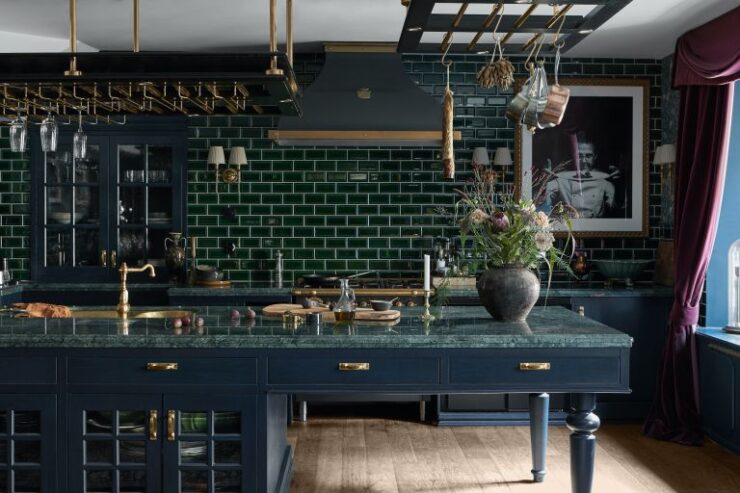 The worst thing you can do is clutter your kitchen. A buffet is not a small element, so you'll still want to make sure your space remains organized properly.
Don't just jam things in your kitchen because they "look good". A lovely kitchen will strike a balance between beauty and functionality, and that's what we're striving for here.
2. Don't Block The Walkway With A Buffet
A general rule of thumb is not to keep buffet or any other chunky element next to doors or walkways. You want to be able to move freely.
To be safe, make sure your every walkway is at least one meter wide, and if the space allows it – make it even wider. Have enough room to maneuver around your kitchen freely. After all, you will rarely be the only one there, so it's important you avoid traffic jams.
3. Assign A Wall To A Buffet
A buffet looks good when it's placed against a wall and when it is the only element there. There's just something regal about it.
Just imagine a lovely buffet filled with your finest china, just standing tall as a centerpiece, displaying all your prized possessions. It's a sight to behold, isn't it?
4. Avoid Corners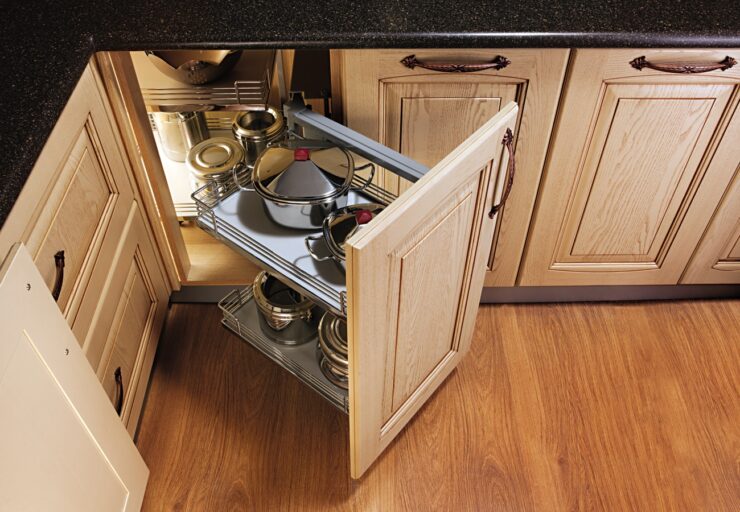 A buffet in a corner is a very big no-no. Just take a look at some of the Lamaison buffets and tell us they would look good jammed in a corner. Of course, they wouldn't.
A buffet is a staple piece, and as such, it should have its own place in the kitchen. It is not an element you would chuck to the side.
5. Keep Everything At The Right Height
This is especially true if you have small children running around the kitchen all day.
Unless you've baby-proofed the buffet, you'll want to make sure that the valuable items are kept out of reach.
It's better to be safe than to cry over spilled milk, or in this case, broken china.
6. Decorate Your Buffet
Waist-high buffets are so easy and fun to decorate. They offer a perfect place for you to display some lovely plants, lamps, books, or whatever else you deem fit.
Honestly, you could do whatever. This will be one of the only surfaces in your kitchen that you won't have to keep appliances on, so why not make it pretty?
7. Don't Forget About The Kitchen Island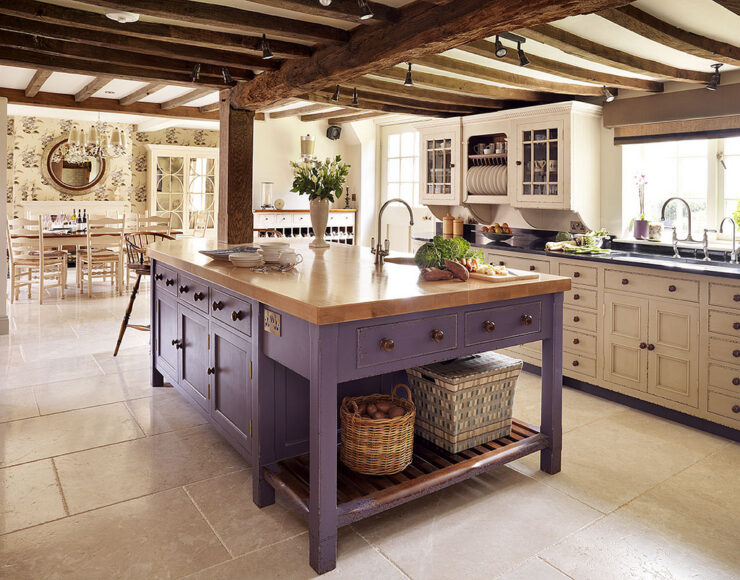 This is not a buffet-styling tip, per se, but we just can not say it. It is "double negative" important!
Always have a kitchen island. They're super pretty, super useful, and functional, and when you have them – you don't even have to use a dining table. Just have everyone sit around it and eat.
8. Don't Overstuff The Buffet
You don't want to make your buffet ugly by overstuffing it with unnecessary things.
While useful, a buffet should be lovely, too. Think of it as a fully-functional display unit and treat it as such. A useful mantle, if you will. You wouldn't clutter your mantle with just about anything, wouldn't you?
9. Make The Most Out Of The Countertops
Once again, not a buffet-related tip, but you have to be mindful of your countertops. They should never be empty.
Get all the appliances you need and find a place for each one. That's what your countertops are for. You'll have an island to chop your veggies on – use these surfaces for a different purpose.
10. Accessorise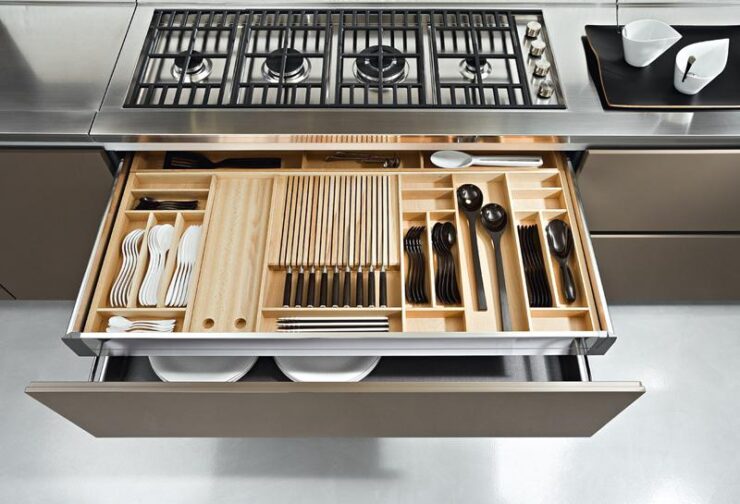 If you have a large kitchen and enough space – decorate it. There is so much you can do to accessorize your kitchen.
What's even better is that you don't have to go out and buy accessories – you can use kitchen items. Wooden spoons and other utensils, cutting boards, display bowls with fruit, and so on can all work. All of these things are both useful and pleasant on the eye, so use them!
11. Level Your Cupboards With A Buffet
If you buy a tall buffet and you decide to incorporate it into your kitchen setup – please level your cupboards with it.
It's just an eyesore to see a buffet stick above the cupboards or, even worse, see it standing short next to these hanging wall-mounted elements. All it takes is to lower or raise the cupboards to make the whole ensemble look good – so do it.
12. Don't Be Scared Of Darker Colours
Don't be scared to add some dark colors to your kitchen. We've seen plenty of splendid kitchens that are totally black.
Now, you don't have to go that far, but some dark, pastel greens, reds, and browns will make your kitchen pop – especially if you have a white buffet and other kitchen elements.
13. Mix And Match Styles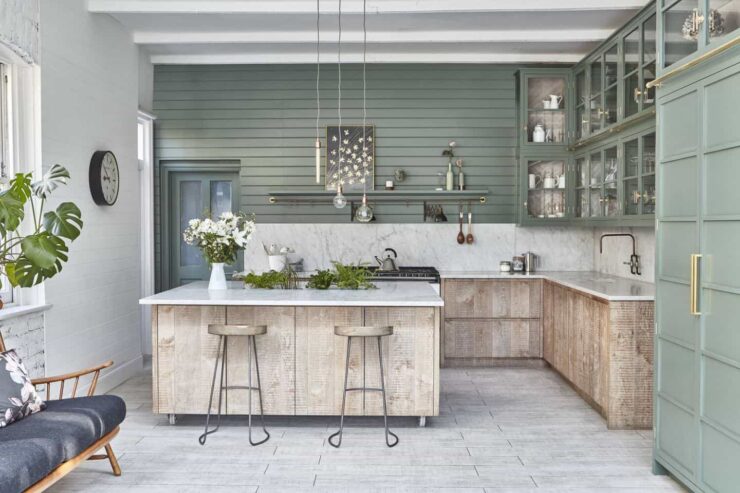 You will mix and match different flavors and aromas in the kitchen, so it's only appropriate that you do the same with styling.
A classic white buffet would look good in a boho kitchen, don't you think? Have fun with different styles and influences and see what you can come up with. We're sure you'll do just fine.
14. Make The Most Out Of Your Buffet
Who says you need a wine cellar? You can just use a buffet to keep your finest whites and reds. A buffet could easily turn into a hidden pantry filled with alcohol you're saving for a special occasion.
Also, if you have an opaque, completely wooden one – you can just use it for whatever. If it's pillows you want to keep there, you might as well. If you can't see it – it's fair game.
15. Add Greenery To Your Kitchen
Brighten up your kitchen by adding some greenery to it.
You don't have to necessarily add decorative plants – you can grow your own herbs and spices.
Plant your favorite herbs into small pots and keep them on your buffet. That way, you can just say, "I'll go help myself to a buffet" whenever you need some basil.
Conclusion
If these tips don't add up for a mighty fine kitchen – we don't know which will.
Hopefully, you've got your time's worth from this article are you're now on your way to redecorate and style your kitchen like a pro.