Football, or soccer, is one of the best ways to stay active and help pass the time. Almost nothing beats meeting up with the boys and playing a game of soccer. The great thing about it is, you don't need a lot. As kids, we used just to get a couple of bricks that would serve as goalposts, someone would bring a soccer ball, and we'd go and play for hours. It didn't matter if we played 5 vs. 5 or 10 vs. 10, we'd still have fun.
However, once you grow a little bit, you start becoming a little bit more aggressive when you play and it becomes more about winning than just playing. You start by switching bricks for actual goals, you purchase some new, better shoes, you get a better ball, and so on. You pretty much get all the necessary gear and equipment, you play each and every day with the same guys until one of you, unfortunately, gets injured. You didn't intend it to happen, but it did. The game got really intense and in the heat of the moment, someone suffered a shin injury. An injury that could've easily been prevented if you had a good pair of socks and shin guards.
From that day on, all of you collectively decide that you'll wear soccer socks and shin guards to prevent this from ever happening again. Now, none of you have worn shin guards and soccer socks before, so you might be tempted to wear them exactly your favorite player does, only you don't know how to properly set it all up. It can't be as simple as tucking a shin guard in a sock, right?
Exactly. It's not that simple. There are a couple of different ways to wear soccer socks and shin guards and we're going to guide you through all of them so you can find out which of these works best for you. So, without further ado, let's dive right in.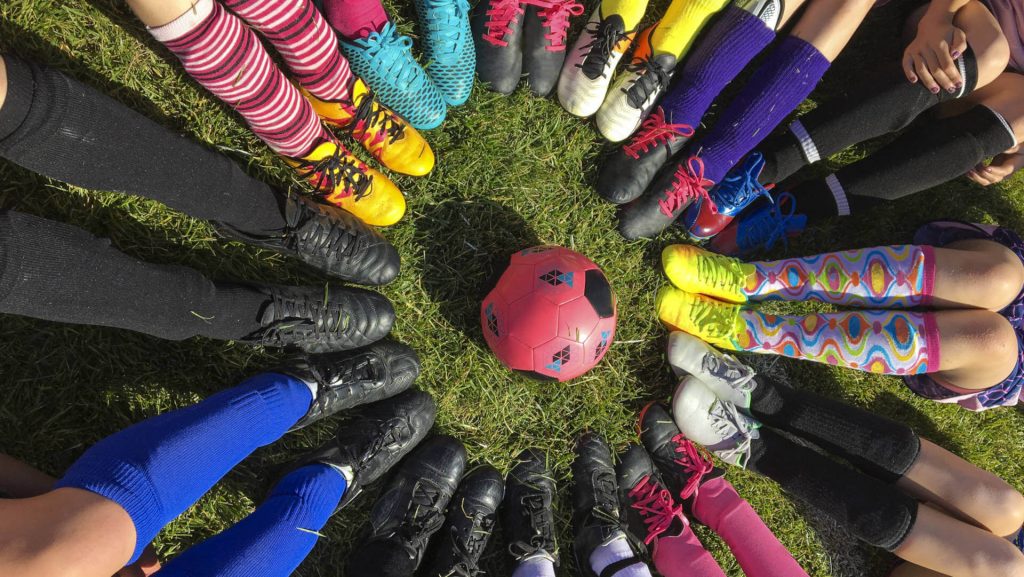 Finding The Right Pair Of Socks
Naturally, you'll start by finding the right pair of socks. As you already know, football is a rather physical game, otherwise, you wouldn't be reading this right now. Ideally, you'd select the socks depending on how you play and where you play. If you play outside, you want to find those that will offer an added layer of protection and warmth, as the temperature can get really low sometimes. For indoor games, you can find a 'lighter' model.
Also, you have to think about moisture control, so to speak. Between the profuse sweating from the game and the rain, if you play outside, you want a pair of socks that is great at keeping your feet as dry as possible. Many brands have great socks, built with advanced technologies (Dri-Fit, DryCell, ClimaCool, etc.) that will help keep the sweat and moisture away from the skin while making sure there are no foul odors.
Finding The Best Length
As you've noticed while watching soccer, not all players wear the same socks. That's because not everyone's comfortable with the same fit. Some players wear OTCs, some wear their socks over the knees, while the others just go with the low cuts. Now, in the official games, you don't have the same level of freedom as you do while playing with your buddies, so, only OTCs and over-the-knees socks are allowed. Finding the right fit for yourself will be one of the things you should do. Exploring your options of sites like coolthingschicago.com can be your first step.
In general, you'll choose between OTC and crew cut socks if you wish to wear a shin guard. Low-cuts and no-shows are better suited for practice or casual games and you won't ever see these in the actual soccer games.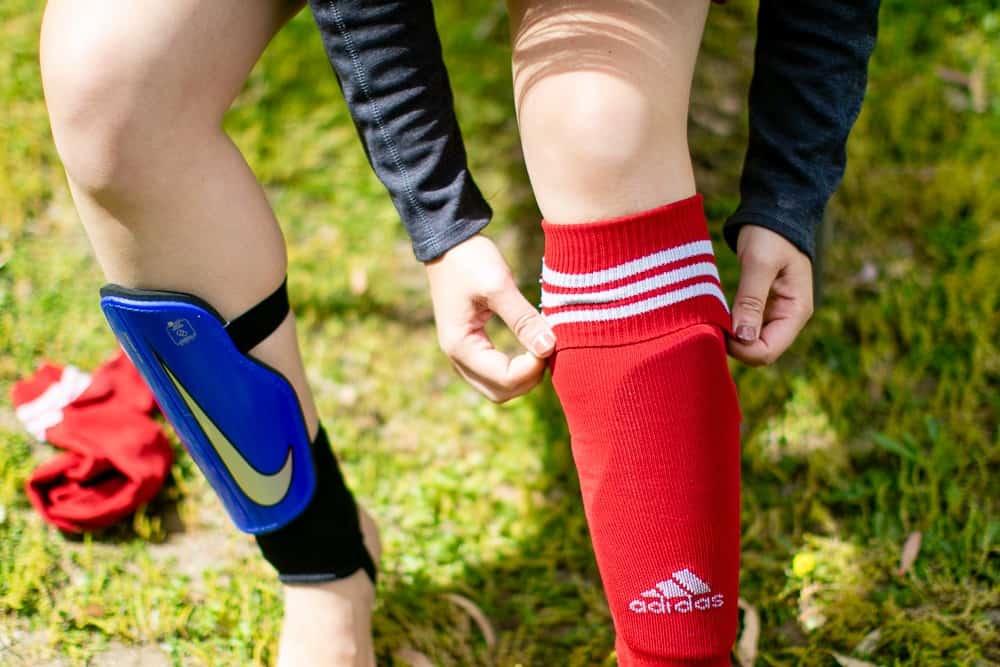 Invest In Quality Soccer Socks
Not all socks are made the same. Just because they're long, does not mean they're good. Unlike regular socks, quality soccer socks are designed with each individual foot in mind. They have strategically placed cushioning and added joint support to help you achieve the best results and bring ultimate comfort. You'll usually be able to tell which sock is meant for which foot by simply looking at it. In most cases, however, there will be an R/L inscription on the socks so you don't have to guess.
Customize Your Socks
As you already know, professional athletes that play on the same team wear the same colored socks. To be fair, you're not a professional club, so investing in branding the socks you wear while playing with the boys might not be on your list of priorities, but that's certainly something you can do, especially if you're always playing for the same team. You and the boys can pitch in and have custom socks made for you, so once the match day comes, you're all matching and ready to roll.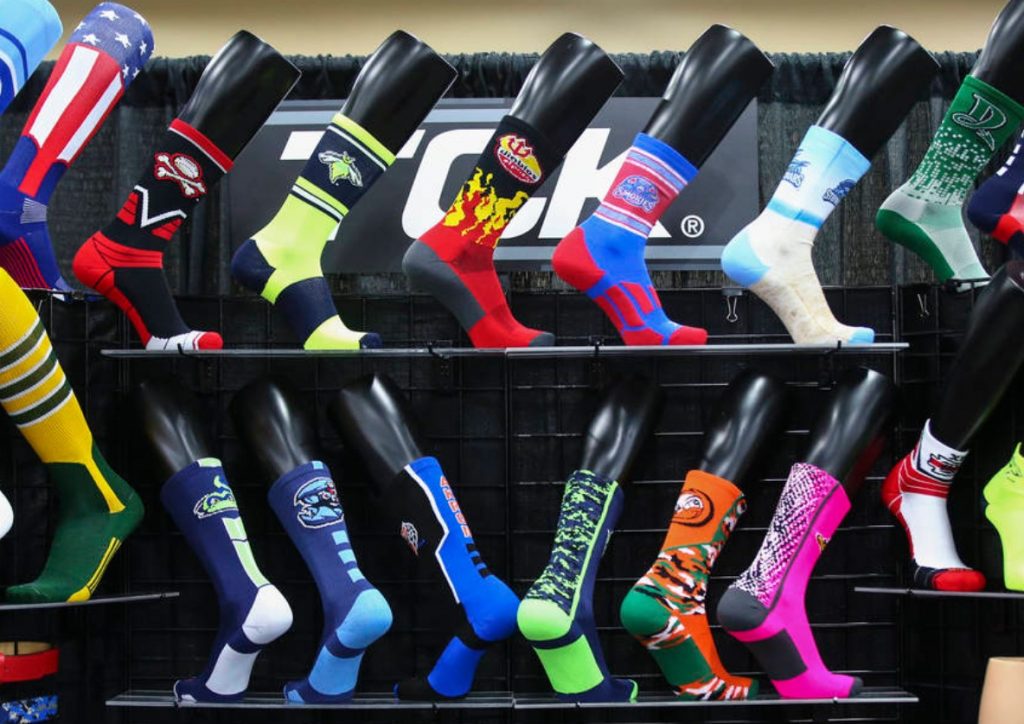 Don't Forget About Comfort
All things aside, socks, as well as the rest of the gear you play in, must be comfortable. That should be your number one goal. For instance, you can always wear two pairs of socks to prevent blisters from happening, but, we'd much rather see you have a quality pair of socks with extra cushioning in those places.
Selecting The Right Shin Guard
Another important factor that will determine the way you wear your socks is the shin guard. In general, meaning in professional matches, your socks must cover the shin guard. So, forget about crew cuts, low cuts and the rest of the lot and go with OTCs. Now, as far as shin guard is concerned, you want the find one that will offer you enough protection but won't affect the way you play.
The general rule of thumb is to find the one best suited to your position and style of play. For instance, defenders are more likely to engage in physical contact, so an extra level of support and protection is appreciated. Midfielders get both sides of the action, so a balanced shin guard should be enough. As for attackers, they want to focus on speed, freedom of movement, and agility, so a light shin guard should be ideal.
However, don't sacrifice safety for speed. Find the perfect balance. Shin guards aren't ankle-weights and they should feel like one, but they also aren't there just for fun.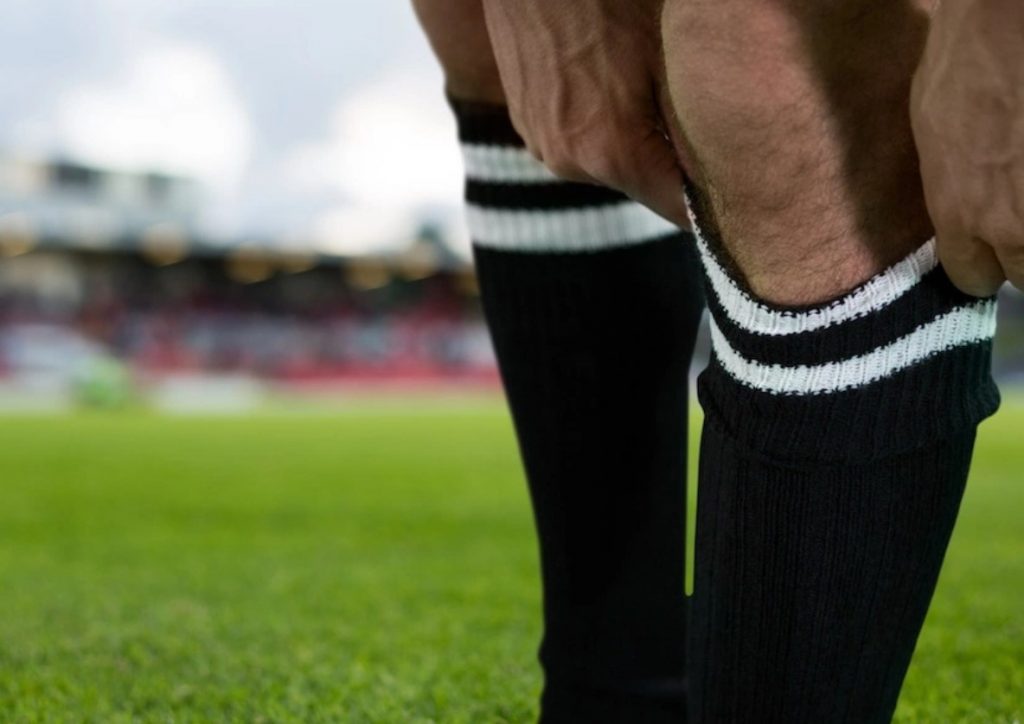 How To Put It All Together
So, let's sum it all up. To properly wear soccer socks, you'll need – a quality pair of socks and a shin guard. Place the shin guard on your leg, secure it in place (you can tape it up for additional security), pull your socks over the shin guard, lace up your cleats and you're good to go.
Hopefully, we've managed to help you become, if not a better football player, at least the most properly dressed on the pitch.